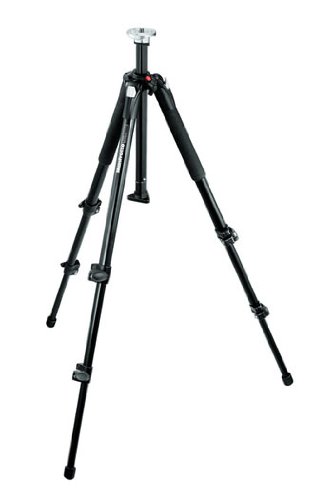 I've always been really impressed with Manfrotto gear. Their stuff is very well made, and it's all very reasonably priced. I've collected a pretty big handful of Manfrotto tripods, clamps, stands and heads over the years, all of which are still in active use.
They've just added another model to the venerable 190 series, which have been rock solid performers and a favorite choice with outdoor photographers.
The Manfrotto 190XDB is a simple aluminum tripod that has been designed with a lighter weight, more compact frame. With three leg sections that open to a max height of 57″, and close down to only 21″, the 190XDB weighs 3.5 lbs, which is a half pound less than the next lightest 190 series model.
It also gives you four preset leg angles, which allows you to adjust for uneven terrain, and also lets you bring the whole tripod down close to the ground for added stability and low angle shooting. It doesn't have the horizontal center column feature that is found on the other 190 tripods, but your tradeoff is a price point that just above $100. That's pretty good for a well made, high quality tripod.
The 190XDB is rated to hold 11lbs, but it's ideal for photographers who are using lighter weight camera gear. It's a great tripod option for using with mirrorless cameras. Many shooters, including myself, are running around shooting landscapes and nature with lightweight compact cameras these days, and so having a lighter weight tripod that folds down to a nice compact size is definitely a plus.
If you've got one of the Fuji X cameras, like the X100S or the XE-1, or even an X20, a Sony NEX system, a Lumix, or one of the new Olympus cameras, and you're looking for a simple, budget tripod that's not a cheap tripod, I'd take a look at the Manfrotto 190XDB.
Of course, you'll also need a head, since it doesn't come with one. Here are 3 good choices that fit with the affordable nature of this tripod.
If you're looking for an affordable carbon fiber tripod, then check out the Manfrotto 190CX3.
[iframe]<iframe width="120″ scrolling="no" height="240″ frameborder="0″ style="border:none;" border="0″ src="http://mer54715.datafeedfile.com/widget/aff_widget_prdt_generate-2.0.php?aff_num=6746&aff_net=1&widget_num=4273&sid=" marginheight="0″ marginwidth="0″></iframe>[/iframe]