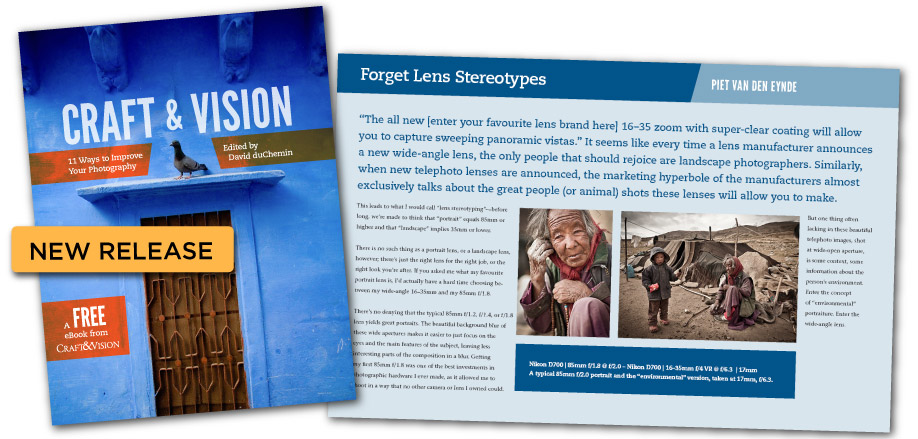 Do you like learning about photography? Of course, you do. That's why you braved the wilds of the internets and trudged your way through the wireless network past all the Groupon ads just to get here.
Do you like free? Of course you do. Who doesn't?
Good, because today, they're one and the same. The wonderfully creative folks over at Craft and Vision just released a brand new eBook today called 11 Ways to Improve Your Photography. And it won't cost you cent. Not now, not ever.
A compilation of articles by a number of their top authors, 11 Ways to Improve Your Photography features eleven great chapters, each of which explores a different method for exploring and improving your photography.
With chapters such as Make Your Images More Dynamic, The Power of the Moment, Slow Down and Learn to See, and Make Stronger Portraits, this book is filled with rock solid tips, approaches and exercises that is sure to inspire you and open your creative flood gates.
I could go on, but there's really no need to. Like I said, the 11 Ways to Improve Your Photography is free. Whether you download it today or get distracted by Twitter, fall behind with your work, forget about it and then suddenly remember while you're lying in bed six months from now, it will be free then too.
Check it out for yourself. I'm pretty sure you'll like it, and even if you don't, you'll still get your money's worth. And even if you've already read a number of their other books, don't worry, there's no recycled content here or excerpts from other books. It's all brand new stuff, ready to be pored over, digested and tried out next time you pick up your camera. Or tossed into the trash with all of your reject images from yesterday's photo shoot.
As an eBook author myself, I've long admired the titles that Craft and Vision puts out. I've read and reviewed quite a few of their books here and I don't think that there's a single title that isn't worth the measly five bucks that the rest of them cost.
Between the brilliant focused vision of David du Chemin, the technical off-camera lighting know-how of Piet Van Den Eynde, the landscape mastery of Michael Frye, the mountain adventure imagery of Alexandre Buisse and all the other great, creative photographers who write for them, like Andrew Gibson, Nicole S. Young, and Stuart Sipahigil, these guys not only know their stuff, the throw it out there with authoritative expertise and inspiration. And they do it with great looking and engaging layouts that really draw you in.
So download 11 Ways to Improve Your Photography. Read all 69 pages now, or stick it on your desktop or your iPad and save it for a rainy day. It's a great book, and for free, you really can't miss.