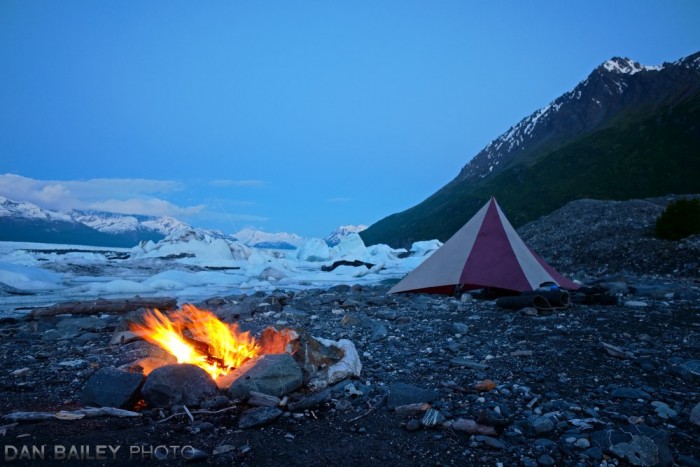 Modern technology is awesome, but it sucks to be tethered all the time. As much as we depend on our gadgets, and especially our cameras, we what outdoor photographers, adventurers and travelers really long for is to be able to run free through the world without being ruled by the battery indicator.
Sure, you can always pack a handful of spare camera batteries, but if you're on extended backcountry adventure, a long bike tour or traveling in remote areas, it's nice to be self-sufficient, especially when it comes to powering your devices.
For years, I've been waiting for the right combination of product development and and adaptors that would allow me to charge my camera batters from solar, and I'm psyched to have finally found a workable solution.
Goal Zero Solar Panel
It begins with the Goal Zero Nomad 7 Solar Panel. You could use any solar panel that has a USB port, and there are a few of them out there, but I like the Nomad 7. It's a nice, compact size that easily fits in a backpack, and it provides a reasonable charge times for most small devices. It includes a dedicated USB port and a 12v port w/ adaptor cable.
Once you have the panel, you can charge any USB powered device, like a phone, iPod or GPS, or using the Goal Zero Guide 10 kit, you can charge 4 AA batteries for things like headlamps. Overall, I'm pretty impressed with the Goal Zero stuff, they seem to be hitting a stride and coming out with a wide range of very usable and compatible stuff that's built well and clearly designed to address the needs of outdoor adventurers and travelers.
The second part of this solution is a USB charger for your camera battery. This has been the tricky part, but fortunately, we're starting to see a number of them pop up on the market.
USB Battery Charger
For my Fuji X-T1 and X-T10, I just got the OAproda NP-126 USB Rapid Charger, which you can find at Amazon. This handles all the interchangeable X cameras, like the X-E1, X-E2 and the X-Pro1 and the X-M1 as well. (Other brands listed below)
At this point, OAproad doesn't seem to make one for the X100, but I found this PowerSmart USB charger for the NP-95 batteries which does the same thing. And here's a PowerSmart USB charger for the Fuji X10/20/30 NP-50 batteries.
If you live in Europe, you can get the Patona USB NP-126 battery charger. It even comes with two spare batteries.
In full sun, it takes about 4 hours to do a full charge on an empty battery, which is not bad at all. Of course, charge times will vary depending on sky conditions and light. Plus, it weighs next to nothing and fits right in the zipper pocket on the Nomad 7 Solar Panel. Of course, you could also charge right from a computer or laptop, or you can even plug it into the wall using a standard USB adaptor. For how cheap and lightweight these chargers are, it might make sense to have a couple of them.
So far, I've used it a few times and it seems to do the trick. I've also charged it from the Goal Zero Venture 30, which is a 7,800mAh battery pack that's designed specifically for the outdoors. It's quite rugged and built to withstand a reasonable amount of water and abuse.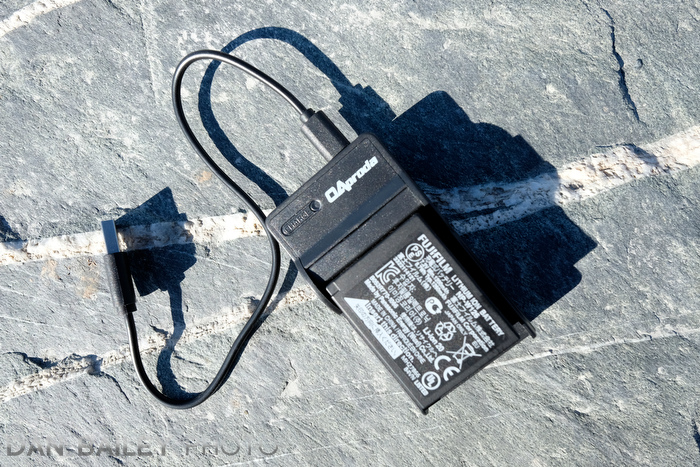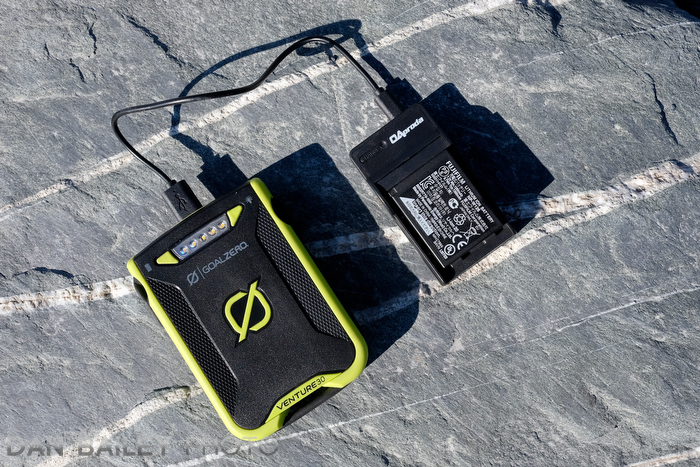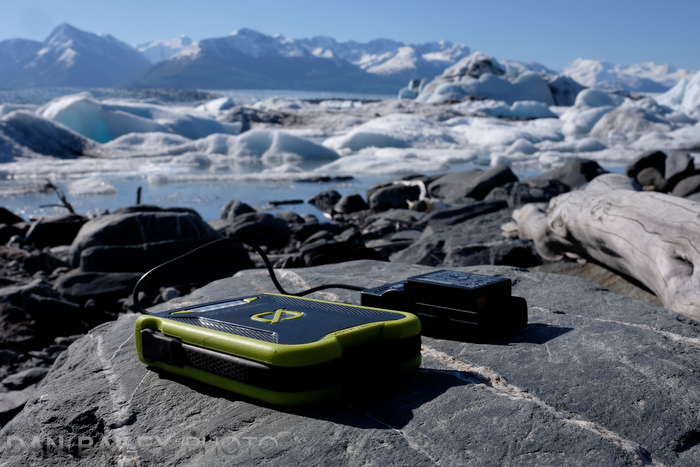 The Venture 30 is designed to pair with the Nomad 7 panel, and in fact, you can buy the two items as a kit. (You save ten bucks if you buy then together.) Since the solar panel doesn't actually store a charge, you can fill up the Venture 30 from the panel and then charge your devices later, say if you don't have any sun.
Or, you can use it as a charge-through device. The Venture 30 has two USB ports, plus Mirco USB, so you can charge up to two devices at the same time, either straight from the Venture 30's power, or you can transfer solar power to both right from the panel.
(Edit: Goal Zero has just released the new larger Venture 70, which is the bigger brother version. It packs 17,700 man, which allows it to charge 5-6 phones, 2 tablets, and will obviously handle over twice as many camera batteries as the Venture 30.)
There are also a number of cheaper third party batteries that even have a built-in solar panel. My friend Derek has this 12,000mAh solar battery made by Levin. He used it on our recent bikepacking trip and it seemed to work pretty well. If you look on Amazon, you'll see more, like this 15,000mAh model made by Maozua, and this one 8,000mAh battery by ZhiZhu.
Of course, the solar panels on these batteries will take a much longer time to charge, but they're small, light and compact, and as long as the unit has a USB port, it should work for this purpose.
At any rate, the combination of a panel like the Nomad 7, a power pack like the Venture 30 (or something similar), and USB charger offers an extremely portable and lightweight solar charging solution. I'm pretty psyched and I plan to use this kit for bike trips, backpacking and even general travel.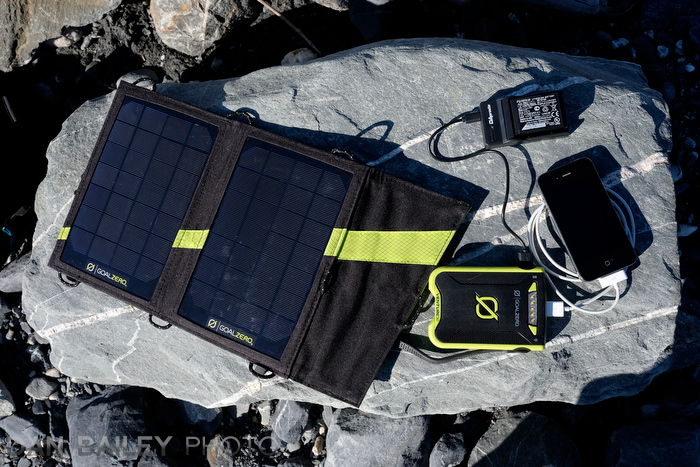 USB Chargers for Other Camera Brands
OAproda makes USB chargers for a huge number of mirrorless, DLSR and point and shoot camera batteries. From what I've seen, there's a solution for just about just about camera. Note, when you shopping for these things, try to buy the "Rapid Charge" models, although they don't make them for all brands.
Sony: Here's a USB charger for the A7 series. It also works with all of the NEX series cameras, and they even have a bundle that includes two extra batteries. Also, here's one for Sony Cyber Shot camera, like the RX100 series.
Olympus: Here's the OAproda USB charger for the Olympus OM-D and PEN series cameras.
Nikon: Here's the OAproda USB charger for the Nikon DLSR cameras that use the EN EL15 battery: D600, D610, D750, D800, D800E, D810 and D7100/7200 series, and the kit with two extra batteries. If you have the EN EL14 cameras, like the D5200/5300, D3200/3300 or the CoolPix P7000/7100/7700/7800 or the Nikon Df, this is your USB charging solution.
Canon: Here's the USB Charger for the Canon DSLRs that use the LP-E6 battery, which includes the EOS 5D, 6D, 7D, 60D and 70D series cameras. If you have the LP-E8 battery cameras, like the EOS 550D, 60D, 700D, or the Rebel T series, use this USB charger.
Just in time for summer! Now that the camera battery solar charging solution has been solved, there's no reason not to grab your camera, stuff your backpack and go lose yourself in the outdoors for a few days or weeks, or take a long road trip. Have fun out there!
[iframe]
[/iframe]