The Mobile Photographer, Part 2: iPad and Tablets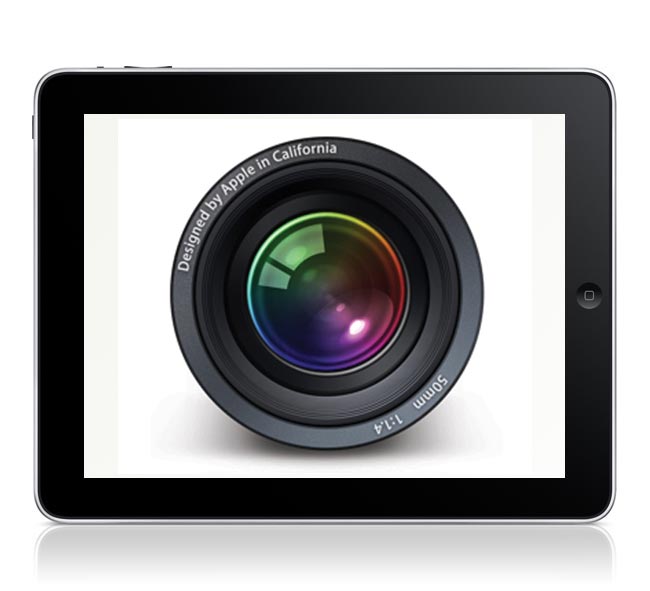 This is the second piece in a series about mobile photography and the tools that let you take your photography business/craft on the road.
When it comes to mobile photography devices, the iPad is pretty much the coolest thing around. Aside from the fact that using one makes you feel like you're finally living in the future, (I'm still waiting for flying cars), and despite its connectivity limitations, the iPad and other tablets are proving to be indispensable devices for photographers of all types.
Studio and location photographers use them to show image captures to clients, and now with some of the wireless tethering tools that are now coming out, they're being used as "live view" and remote camera control devices. Tablets are great for showing off your portfolio to clients, collecting model releases, reading photography eBooks and magazines such as Photographer's i, Scott Kelby's Light it, and Craft and Vision's beautiful new quarterly publication, Photograph, and keeping in touch with your online peeps through social media.
That's not all, though. The number of really useful photography apps that keep appearing in the app store each month has made it so you can do just about everything with your iPad. Obviously it doesn't have quite the same functionality as a full fledged laptop, but for the price and mobility, it's hard not to consider this option if you want to go on the road with minimal gear. They take up less room in a backpack or shoulder bag, they fit in most camera bags and they're considerably less expensive than even a MacBook Air. I know of a couple of pro photographers who often use the iPad exclusively when they're on trekking trips and backpack/travel excursions.
Want to go even lighter? Get an ipad Mini. It does everything the iPad does and takes up even less space. It's by far the smallest, lightest weight option out there.
Getting Around the iPad's Limitations
The main limitation of the iPad is that is lacks a USB port. This means that you can't just hook it up to any portable hard drive and dump photos back and forth. Some Android tablets have USB ports and SD card reader ports built quite it, so for you tablet guys, you can probably skip over this section.
The Apple Camera Camera Connection Kit lets you get photos from your camera and SD card into the iPad, so dealing with new photos it not really an issue. The connection kit also gives you an inexpensive way to shoot tethered to the iPad. With apps like Photosmith (Lightroom utility) and Pixelsync (Aperture utility), Photoshop Touch and iPhoto, you can edit, tag, caption and share new work from camera to iPad with ease. However, even though the connection kit effectively adds a USB input to the iPad, it won't recognize flash drives or external hard drives.
So, it's getting those photos off of the iPad that's the problem. Also, what about brining along your image archive just in case you need to send photo submissions or deliver hi res files to clients while you're on the road? Not quite so easy, but fortunately, there are a couple of hardware solutions.
1. iPad Compatible Hard Drive: At this point, the Sanho HyperDrive is the only compatible drive that connects right to the iPad. However, they're brand new and only available for pre-order. The Seagate GoFlex Satellite Mobile Wireless Hard Drive allows you to store and wirelessly stream data from the drive directly to the iPad. Hopefully, we'll see more devices like this in the future.
2. iUSBPort: The new Sanho iUSBPort, formerly branded as the CloudFTP, acts as a wireless USB port. You can connect any USB external or flash drive to iUSBPort, and then stream your photos to the iPad. Also new and not out yet, but if you can get an older CloudFTP, it's the same thing, just with a different name.